"I was raised in a
jhasinnadah
in
Manshaka
," said
Vashti
, without emotion.
"I did not learn of it till much later, but my father sold me into slavery to pay for my mother's medical bills.
"I was trained as a dancer and for years took joy in tumbling and twirling in silks, as I naïvely relaxed in the comfort and pleasure that all
jhasinnadah
offer.
"On the night of my 15th birthday, in the
Year of the Gauntlet
, I was to be presented before the
druzir
to 'dance' for him. I was lead to his bedroom by the villa guards, wrapped in beautiful layered silks I had
chosen
myself. He sat on his bed. I had never once seen him before; he was a hideously ugly man, but it bothered me not at first, for I was dancing for myself, not for him, to celebrate my own passing into womanhood. He ordered the guards to remove my silks, and they obeyed. I was disappointed, for I was pleased with my costume, but even then, I was naïve; nudity was of course
common
among all the women in the harem, as there were many baths and massage tables, and eunuchs were always present in those places, so I was not afraid nor embarrassed. He then ordered the guards to leave and me to dance. So I danced my best dance. For the moment, I was still happy, even as I danced before this despicable man. It was only when the dance was over and he opened his robe and gave me my next orders that I was filled with dread. I was confused and shocked, suddenly understanding everything, as my childhood innocence died.
"I decided that I would rather die along with my childhood than obey his request. I said, 'No.'
"Enraged, he began to beat me. I fell to my knees and wept, but still I refused. So he put his large hands around my neck and began strangling me. I simply closed my eyes and waited to die, as the happiness of my childhood was revealed to have been based on lies. That pain was far worse than the pain of his fingers crushing my throat. He continued to scream at me, as still I disobeyed, and it suddenly dawned on me that I didn't feel the need to breathe, even after all this time. Why was I not already dead?
"I opened my eyes again, filled with sudden hope. There on the small table by the bed lay the
druzir
's
jambiya
," continued
Vashti
, as she withdrew her blade from its sheath. "Reaching out my hand, my fingers could just reach the handle. He was so furious that I was taking so long to die that he did not notice this motion. I took the blade... and emasculated him."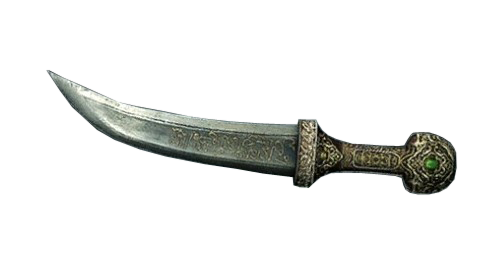 She resheathed her
jambiya
and continued. "Wrapped in his robe and stealing his flying carpet, I escaped out the window before the guards returned. I survived by stealing what I needed, disguised by day as a boy. I soon took refuge in the criminal underworld, as there I found respect that women cannot find elsewhere in
Calimshan
. I only ever took jobs in which the targets were men, and soon those targets were also slavers.
"By this, I found myself in the north, where I happened upon the town of
Copper Hill
and the Enclave there.
Lady Frost
was the first one who recognized and confirmed what I was growing to suspect; I am not of pure human blood.
"I am a
genasi
. The blood of
djinn
flows in my veins. All the signs were there. I do not have to breathe; my skin is always cool to touch; my crazy hair; all those nights when I would wake up several inches above the surface of my bed.... I learned later that my great great great grandmother had been raped by a
djinni
she had foolishly summoned from a lamp,... and so, here I am.
"And that," she finished with a mock smile, "is my happy tale."
Session: 16th Game Session - Thursday, Sep 12 2013 from 5:00 PM to 8:00 PM
Viewable by: Public
Posted
on September 16, 2013 17:15